Fix Your Music
---

TidySongs is an easy and powerful itunes cleaner that will fix any missing or misspelled song details, add album artwork, remove duplicate songs and organize your music.
---
Download Now

Free Download
OS X, Windows
TidySongs Fact:Smarter Than Other Programs
iTunes and other programs rely on correct information in your songs to work. Not TidySongs. Even if your song names have misspellings or missing info, TidySongs' intelligent database technology will find the matching artwork, remove duplicates and clean things up.
---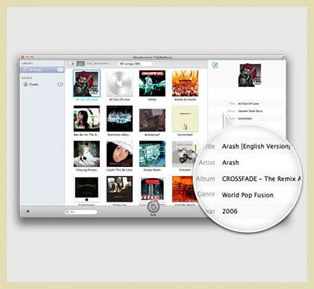 Simple. Powerful. Beautiful.
Our goal was to make everything push-button simple, while giving you complete control over organizing and fixing your music library. And we wanted it to look good.
TidySongs Tour and Screenshots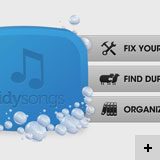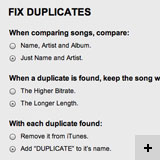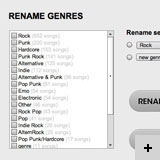 ---
What the blogs are saying...

AMAZINGLY USEFUL!

TidySongs can make it a heck of a lot easier to clean-up your iTunes library.

TidySongs literally tidies up your crappy media tags in the songs.

Having TidySongs around to run once a week or so is a lifesaver – no manually hunting for album artwork, or renaming songs – TidySongs does it for you

...Another weapon in a growing arsenal of music library management tools that cater to people who keep their entire music collections in digital format
...Very good software for music lovers.
You should try TidySongs.
Download Now

Free Download
OS X, Windows