Automatically Clean up Your iTunes Library
TidySongs and described to users who TidySongs is useful to and how to clean up your music library.
"If you have too many songs on your iTunes library I'm sure you must have faced this issue before. How many times have you took the pain of going through one song at a time (probably) to fix the missing album names, artist name, genre and the other meta information on your song list? Wouldn't you feel that's a painful process? I'm sure you have.
TidySongs can help you with cleaning-up your iTunes library in a lot better and easier way. You can use TidySongs to edit song meta information. You can either do all the clean-up manually or your can let TidySongs do its job by letting it do automatically."
Download Now

Free Download
OS X, Windows
---
Step 1: Add in your iTunes library
Import your music library to this program by clicking the button of Import iTunes Library or Import Local Files.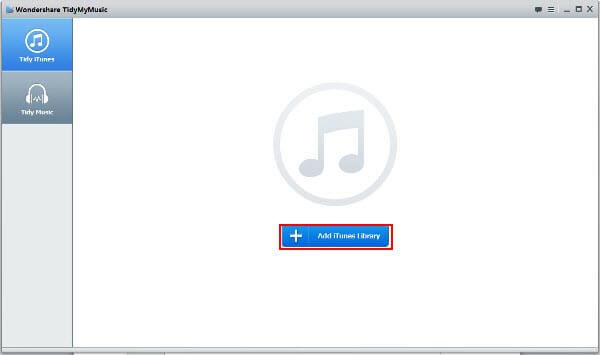 Step 2: Scan to identify songs and find duplicates
Click the Scan button and a pop-up window will tell you how many songs need fixing. Click the Fix Missing button to start retrieving information for every track. During the process, duplicates can also be spotted.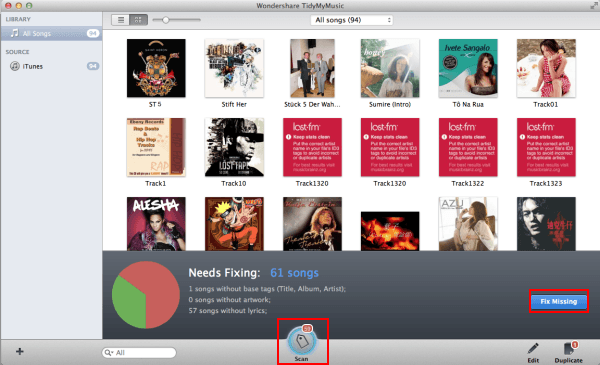 Step 3: Apply the information to the songs
After the scanning is over, Choose Apply All or Apply to embed the information to every song.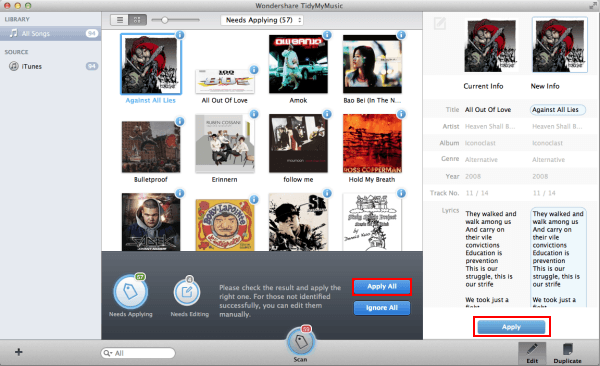 Step 4: Remove duplicated songs
Click Duplicate on the bottom and Press Remove in the prompted window after you have decided that you don't want the duplicates any more.